Artist Dinner (Phantom Creek Estates)
September 18 @ 6:00 pm

-

9:00 pm

$245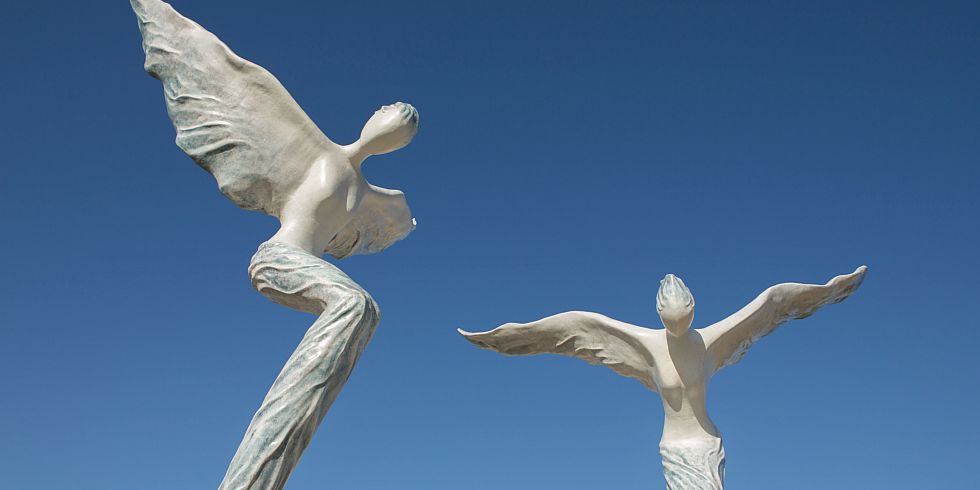 At the entrance to Phantom Creek Estates winery, visitors are awe-struck at two female figures, each seven metres tall, winged and poised to take flight but tethered to the earth by a slender waterfall of coated bronze. This is Pro Terra et Natura — For Earth and Nature — by Chinese contemporary artist Wu Ching Ru. It's one of six such installations located around the world, which represents two spirits of nature, mother and daughter seeking a sanctuary to inhabit, and their delicate connection to our planet.
"Pro Terra et Natura is the perfect first welcome to the winery," said François Mateo, Managing Director of Phantom Creek. "It captures everything we're about: it represents our commitment to creation, to art and culture, and to being careful stewards of this land. It speaks to our responsibility to the community and to what we aspire to accomplish, which is to transform the landscape by challenging the status quo."
The internationally acclaimed artist — who is of aboriginal Taiwanese lineage — will visit Canada and the winery for the first time since the sculptures were installed in 2019. She's looking forward to seeing them here, where she feels they are well grounded against the natural, breathtaking backdrop of the Black Sage Bench. 
From September 17 to 19, Wu will be in residence at the winery, drawing inspiration from its surroundings to create 20 individual collectable wine-box art pieces. Winery visitors can see her at work, and on September 18, take part in a special dinner to celebrate the passion for art, the cultural diversity, fine wines and food, and the exciting new opportunities envisioned by the artist and the brand, for which Wu will also design and install a floral arrangement to mark this exclusive collaboration.
The exclusive artist dinner with Wu Ching Ru at Phantom Creek Estates takes place Monday, September 18 at 6 p.m. Tickets are $245 per person plus tax and gratuity. To book, please visit Tock.
Related Events