5th Annual Crush Party (Nostalgia Wines)
October 1 @ 12:00 pm

-

5:00 pm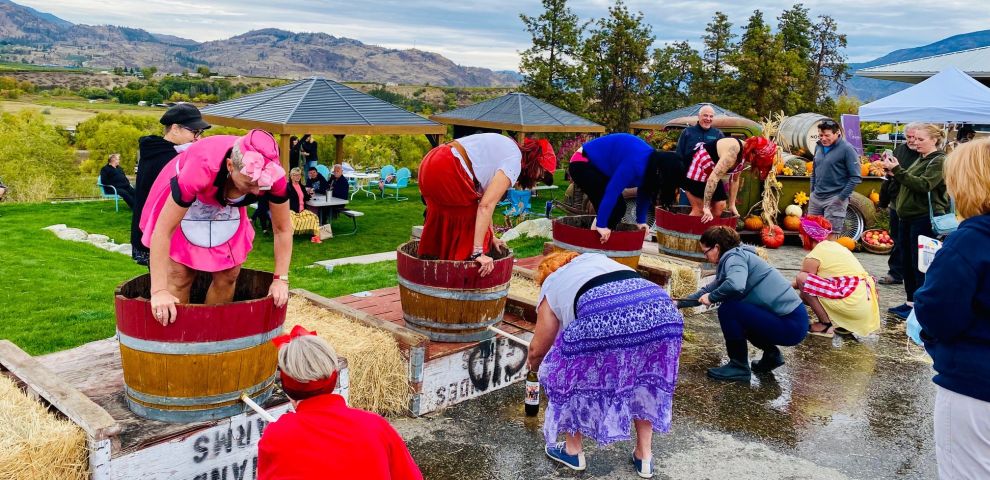 5th Annual Crush Party! Now is the time to sign up for the 2022 Nostalgia Wines Grape Stomp Competition!
There are many ways to take part in their Crush Party, and stomping grapes is just one option. You can also participate in the costume competition, where they have a prize for the best dressed Lucille Ball (or Ricky Ricardo).
Local rockers Rebel Luv's live music all day for competitors and spectators. Eat and drink… "I ❤️ My BFF" food truck (burgers and french fries) will be onsite, as well as the Nostalgia Wines and North Basin Brewing drinks garden.
Nostalgia Wines be raising money for Wide Arts National Association, supporting local arts experiences. Jenn Bruyer will be soaring above with aerial dance performances. Lots of fun is in store! This action packed event will have something for everyone.
All stompers sign up in advance, so please email info@nostalgiawines.ca for a registration form. Your registration is confirmed when you return the completed form and pay the $30 entry fee per team of two, which will be donated to Wide Arts. They are having a Little Feet Stomp for kids at 3:45. The Little Feet Stomp is impromptu, and kids are welcome to hop in and try stomping grapes.
Related Events